Almost one year has passed since guests at our 2018 gala donned flapper dresses and suspenders for a 1920's Gatsby-themed night at the Fashion Island Hotel, helping raise nearly $200,000 to support our programs serving pregnant women and their children who find a home in Casa Teresa. Next month, we will travel 1300 miles south of Gatsby's New York for our 2019 gala: Havana Nights. Returning to the Fashion Island Hotel on October 25th, this year's guests will be transported to Cuba during Hemingway's years, the 1940s and 50s. The night will feature a cocktail reception, silent auction, dinner, and Hemingway's Hideout, complete with a cigar lounge and piano bar.
During last year's gala, guests were treated to heartfelt stories shared by two Casa Teresa alumni, Desiree and Shaina. We are blessed to share today an update on their journeys.
---
Desiree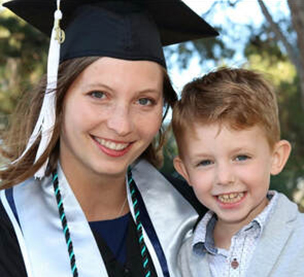 ​Many of you many remember Desiree from last year's gala as a budding college student who had set her sights on becoming an educator. Ever grateful for Casa Teresa and her the experiences that set her ambitions on the path to a career mindset, Desiree took time out of her volunteer work sorting clothing for The Collection to share her latest achievements. As of January, Desiree graduated from Cal State Fullerton with her Bachelor of Arts in Liberal Studies with a minor in adolescent development. Soon she will begin her credential program, also at Cal State Fullerton, to be completed spring 2020. Desiree says that because of so many staff at Casa Teresa cheering her on, writing recommendation letters on her behalf, and helping direct her path she was able to celebrate so many milestones, like graduating college, that she never thought possible before, but that's not the only exciting update Desiree shared.
Her son, now age five, learned how to ride a bike this summer! She shared that he is enjoying more independence all the time and she feels overwhelmed with joy to be watching him grow up happy and healthy. Since he has started to do more and having graduated Desiree has had the opportunity to learn the joy of reading for pleasure. She just finished Outlanders and is searching for her next book. Desiree shared that something as simple as watching her son ride his bike and getting lost in a good book are exactly the moments of peace and calm Casa Teresa has made possible in her life.

---
Shaina
Shaina's story was one of broken hope and strained family relationships after many years of drug use and "shenanigans", as she called it. Coming back to Casa Teresa and sharing that she and her family vacationed together this summer was a surreal moment for her. Shaina now has a key to each of her parent's homes and looks forward to each visit. She now often sits with her daughter and mother at the dinner table telling stories of the day and laughing over silly jokes. Shaina credits Casa Teresa for opening her heart in a way that makes family dinners possible.
Shaina has also started a new position with Edwards Lifesciences and is working to move from a temporary to full-time position with the company through the help of the Casa Teresa Alumni program. She elaborated that setting any goals, let alone career goals, is a huge improvement in her life. While she has been busy working and supporting her daughter Genesis, who just turned 3 years old, she is finding time to enjoy the little things in life. Genesis recently started ballet classes and Shaina loves watching her as a happy carefree child learning and dancing.​
---
​At Casa Teresa, we are fortunate to continuously witness the healing journey that breaks the cycle for so many pregnant women in crisis. Updates from our alumni remind us how meaningful it is for these women to experience everyday triumphs and trials when navigating their children, families, education, career, and social lives. We look forward to sharing even more alumni stories at the 2019 gala and are thrilled that these women's stories can impact the entire Casa Teresa community.
It is stories like Desiree's and Shaina's, and so many other alumni that speak to the importance of our mission. Funds generated by the gala are critical to further this mission and its impact on pregnant women and their children. We are incredibly grateful to our generous sponsors and all who have contributed to this year's gala!.
​
Thank you to our 2019 Sponsors and Partners!
Diamond
American Career College / West Coast University
Regina and Richard Hunsaker
Sapphire
Arees and Heather Akoubian
Jean Patierno Cornyn and Joe Cornyn
Emergent Success
The Frome Family Foundation
Jack and Donna McNutt
The Don Redfern Family
Wells Fargo
Emerald
Applied Medical
First Republic Bank
Lisa Karos/RE MAX
The Stanton Family
Topaz
​Frank Campbell
Valerie Rafferty
Cigar Bar Underwriter
Cathy and Steve Muzzy
Whiskey Tasting Underwriter
Holly and Ken Hart
Partners
Gorjana
Luxe Interiors + Design
Sundrop Vintage